Facials
We would like to invite you to take a look at our different facials offered at our centre by clicking on the headings below: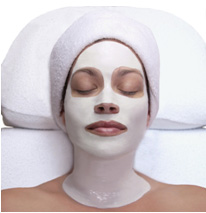 Eye Contour Treatment
Facials This treatment will help with the appearance of:
dark circles
puffiness
fine lines
wrinkles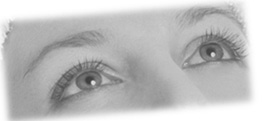 Sheerwave body and face contour
Discovered through earlier experiments in the field of cosmetic medicine, the Sheerwave is the best alternative to plastic surgery for treating cellulite. Here's how it works: The Sheerwave body and face contour works with non-invasive ultrasound and Radiofrequency technologies.
Specific ultrasound parameters of pulse length and energy level ensure a selective pressure to the fat cells. This pressure liquefies the fat cells and then processes them through the body, more specifically through the liver.
Safe and non-invasive, the RF used will gently heat up the deep layers of the skin with no pain, to promote the creation of new collagen giving immediate lifting and tightening effects.
The results: a return to smooth and shapely skin that can last between 3 to 6 months.
Electrolysis Hair Removal
The method of removing hair with electrolysis has been around for over 130 years. This is a technique of permanently removing hair using a sterile filament inserted into each hair follicle. A current is passed through the follicle and the hair is then removed. The hair will disappear within a few treatments providing it is in the right condition. For more information call us for a free consultation.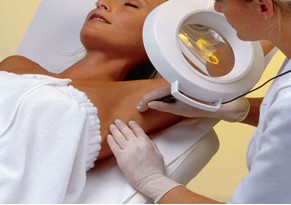 Laser Hair Removal
Laser hair removal has become a very popular hair reduction method, removing hair from large areas of the body. Heat, coming from the laser, is applied to the area with unwanted hair and therefore destroys it inside the follicle. Treatments are best suited for someone with dark hairs and pale skin since the laser targets the pigment of the hair. For more information call us for a free consultation.
Waxing
One of our hair removal techniques includes waxing. We use the professional grade Alaska wax. This is a warm wax that is good for all skin types, even the most sensitive. Waxing is a good technique to remove any type of hair, from a very thin hair to a very coarse hair, no matter the color. So call us today to make an appointment.
Reflexology
A natural healing art based on the understanding that there are reflexes in the feet, hands and ears which correspond to every part, gland and organ of the body. Experience one of our reflexology sessions and reap the benifits of improved circulation, relief of tension, body balance (the physical, mental and emotional aspects of the body), promotion the natural function of the related area in the body, re-energize, promotion of overall wellness and health.
www.reflexmontreal.org
Jane Iredale mineral cosmetics
The new definition of makeup & the most advanced technology in the world.
When you begin wearing this makeup, you will notice your skin adopting a fresh and flawless appearance. You will also be delighted by the minerals' long lasting effects; no touch ups required. Simplify your life with this 'all in one' mineral makeup. It offers the properties of a foundation, a corrector, a powder and a sunscreen, protecting your skin against UVA & UVB rays. Jane Iredale's purely natural formulation contains no FD&C dyes, no chemical preservatives such as parabens; also made without synthetic fragrances or chemical fillers such as talc. This line of cosmetics will truly change your life!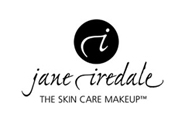 Hand and Foot Treatments
We will take care of your hands with a manicure which includes filing the nails, treating the cuticles, a massage and finishing with a polish application.
Your feet will smile after one of our pedicures. You start by soaking your feet in an herbal bath, we will then take care of your cuticles, file the nails, soften any callouses and dry skin and finish with a relaxing foot massage and application of polish.
In need of some extra hydration?
Ask us to add a paraffin treatment to any manicure or pedicure. Your hands and feet are exfoliated and then dipped in hot paraffin, leaving them feeling soft and silky. This is also a great treatment for those suffering from arthritis.